Mission Statement
The Department of Middle Eastern Languages and Cultures (MELC) is devoted to the study of the languages and cultures of the Middle East, Central Eurasia, North Africa, and the Horn of Africa. MELC explores the contemporary cultural diversity of the region, its ancient and medieval roots, and its relevance to modern civilizations. Our graduates acquire the knowledge and practical skills that prepare them to succeed in a variety of careers, including academia, diplomacy, technology, and business.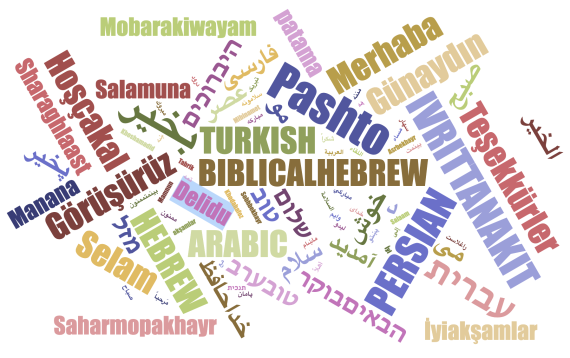 Education
MELC offers BA and MA degree programs that investigate major literary and cultural traditions of the Middle East and Central Asia. The modern languages we regularly teach include Arabic, Persian, Tajik, Turkish (Modern and Ottoman), Central Eurasian Turkic languages (Uzbek, Kazak, Kyrgyz, and Uygur), modern Hebrew, Ladino, and Aramaic. A rich and vast heritage of the ancient Near Eastern is explored through the study of languages and literatures including Biblical Hebrew, Egyptian (Hieroglyphic and Coptic), Akkadian, Hurrian, Ugaritic, Phoenician, Syriac and Ge'ez (Classical Ethiopic). Undergraduates can select from degree options concentrating in Languages & Cultures, Comparative Civilizations, and Hebrew Bible & Ancient Near East.
MELC serves a broad spectrum of undergraduates, including those with plans to acquire specific linguistic and cultural proficiencies and those interested in the histories and cultures of these regions. MELC graduates have pursued further study in the humanities or social sciences, professional degree programs in law or medicine, employment with governmental or non-governmental organizations, and other careers. Our department participates actively in exchange programs, sending UW students for language and cultural study and research to a variety of locations—from North Africa and the Horn of Africa to the Middle East, and across Central Eurasia—and training many students from institutions overseas.
Arabic students – Keenan Foster, Susan Gaylard & Katie Ruesink: link
Hebrew students – Liv Fowler & Forrest Martin: link
Kazakh student – Easton Kugler: link
Persian students – Isabelle Tsiprin & Paul Kane: link
Turkish students – Paul Kane & Svetlana Ostroverkhova: link
Scholarship
MELC faculty are engaged in a wide variety of individual research endeavors with emphases including post-colonial theory, intercultural exchange, literature as performance, gender theory, literary dynamics in exilic or diaspora communities, children's literature, linguistics, legal theory, and comparative religion. Departmental research on Jewish, Christian, and Islamic literatures and cultures is characterized by the study of these, not as isolated entities, but rather, as integral to wider Middle Eastern cultural developments. Faculty in MELC have been leaders in numerous national and international team research projects.
Community and Outreach
MELC greatly values our close relation with the greater community of students, alumni, faculty and the greater Seattle community. MELC faculty participate in the annual World Languages Day at the UW, an event that introduces high school students to language study at the University. Starting in 2023, MELC began the weekly "MELC and Cookies" meet-up in the MELC Conference Room, in order to facilitate open and informal discussions between MELC students and faculty. Additionally, we have also begun an annual MELC Meet and Greet, to allow students and faculty to better get to know each other outside of the classroom.
Annual events include the Farhat J. Ziadeh Distinguished Lectureship in Arab and Islamic Studies and the Hooshang Afrassiabi Distinguished Lectureship in Persian and Iranian Studies. Additional lectures and cultural presentations are supported by the Turkish Studies Endowment, the Hebrew Bible and Ancient Near East Fund, the Ravani Endowment, and the Friends of Persian Studies Fund.
MELC values its close communication with the Middle East Student Commission, the Persian Circle, and other student interest groups through programs and cultural activities that are presented throughout the year. Within the Seattle community, we are proud of our continued work with multiple film festivals in the Seattle area, including the Seattle International Film Festival, the Turkish Film Festival, the Iranian Film Festival, and the Jewish Film Festival.
History of MELC
The Department of Middle Eastern Languages and Cultures (MELC) was co-founded under the name of Near Eastern Languages and Civilization by Prof. Farhat Ziadeh and professor Nicholas Heer. Ziadeh was born in Ramallah, Palestine, and received his B.A. from the American University of Beirut in 1937. He graduated from the University of London in 1940 with an LL and became a tenured professor at Princeton University. In 1966, Ziadeh was invited to come to the University of Washington to develop a new program in Near Eastern studies. As he was building this new program, Ziadeh published Lawyers: The Rule of Law and Liberalism in Modern Egypt in 1968. By 1969, Ziadeh, and Heer had transformed the small Near Eastern studies program into a new department at the University. Ziadeh was appointed its first departmental chair. NELC was founded in order to allow for teaching on a greater breadth of Middle Eastern subjects, both linguistic and cultural, than was previously present at the university.
In 2023, we implemented the change of department name from NELC (Near Eastern Languages and Civilization) to MELC (Middle Eastern Languages and Cultures) to acknowledge and embrace the diversity of the regions we continue to study, to raise the visibility of the courses and activities we offer, to stay up-to-date with developments in our fields of study, and to reflect the fact that we engage a great variety of different approaches, methodologies, and interests in our scholarly work. Our department represents a vast region – from Morocco to China and all the diasporas beyond! In other words, our areas of interest include multiple languages, populations, and cultures. We also cover more than 5000 years of life in the regions we study. The new name for our department emphasizes plurality and inclusion.
More about MELC