Assistant Teaching Professor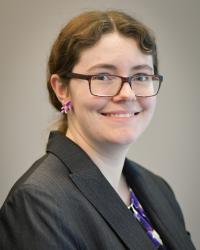 Contact Information
Office Hours
Fall 2023: walk in M 3.40-4.40 or H 1.30-2.30, or make an appointment for a different time
Biography
Ph.D., Hebrew Bible and Northwest Semitics, Johns Hopkins, 2020
M.A., Ancient Near Eastern Studies, Johns Hopkins
M.A., Linguistics, Indiana University, 2014
B.A., Biblical Languages/Linguistics, Geneva College, 2011
Kathryn McConaughy Medill is a scholar of the Hebrew Bible and the ancient Near East who completed her Ph.D. in Hebrew Bible and Northwest Semitic Languages and Literatures at Johns Hopkins. She taught at Johns Hopkins University, Towson University, and Eastern University before joining the faculty at UW in 2022.
Medill specializes in statistical approaches to Semitic linguistics as well as in the socio-historical development of scribal norms in ancient Judah and other ancient Levantine communities. Current research interests include the coding of motion in Biblical Hebrew and measuring fluidity in Biblical Hebrew texts. Medill also supports efforts to bring the study of the ancient Near East into middle and high schools.
Medill teaches Biblical Hebrew, Introduction to the Old Testament, and Introduction to the Ancient Near East, as well as a variety of courses dealing with biblical and ancient Near Eastern literatures.
Winter 2024
Autumn 2023
Spring 2023
Winter 2023
Autumn 2022
Additional Courses
MELC 600 "In Search of the Hurrians"
MELC 600 "Readings in Biblical Criticism"
Next academic year (2024-2025):
Death and the Afterlife in the Ancient World (remote summer course)
Biblical Hebrew (BIBHEB) 101, 102, and 103
Introduction to the Ancient Near East (MELC 201)
Introduction to Myths of the Ancient Middle East (MELC 211)
Women in the Ancient Middle East
Professional Affiliations
Society of Biblical Literature, ASOR, AOS, National Association of Professors of Hebrew