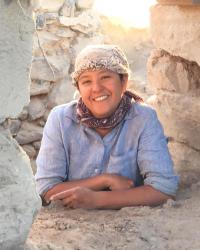 Biography
Ph.D. 2015, University of Chicago
M.A. 2008, University of Chicago
B.A. 2004, Stanford University
Professor Selover specializes in the archaeology and cultures of the ancient Middle East. Her research interests include the prehistoric cultures of the Middle East, evidence of violence on ancient human remains, the origins of violence and warfare in the ancient world, and the effects of modern politics on archaeology of the Middle East. She has excavated archaeological sites in Jordan, Turkey, Syria, Israel, Italy, and the United States. Professor Selover is currently

Co-director for Project Logistic and Co-director for Prehistoric Studies at Çadır Höyuk

in Turkey, and a Field Director at the site of Khirbat al-Balu'a in Jordan.